Programs

Brochure
This page is the brochure for your selected program. You can view the provided information for this program on this page and click on the available buttons for additional options.
Program Type:
Semester / Year Abroad
What Financial Aid Applies?:
Federal and State Aid Only
Language of Instruction:
English
Language Study Requirement:
No
Internship:
No
Housing:
Cabin on Ship
Prereq. Language Study:
None
Meal Plan:
Plan Available
Business Classes:
Lower Division, Upper Division
Recommended for Chapman Majors:
Art, Business Administration, English, Environmental Science & Policy, History, Music, Philosophy, Political Science & Peace Studies, Psychology, Religious Studies, Screen Acting, Sociology, Theatre
Recommended for Chapman Minors:
Anthropology, Gay, Lesbian, & Bisexual Studies, STEM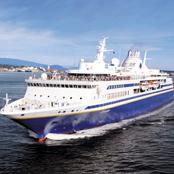 Semester at Sea
Description:
Semester at Sea gives you a taste of the entire globe as you travel more than 24,000 nautical miles to as many as 13 off-the-beaten-path international destinations ... or to a single fascinating world region for intensive exploration.
Semester at Sea sails three voyages per year for academic credit on the MV Explorer, a modern passenger liner which has recently been converted into a state-of-the-art seafaring campus.
Since 1963, more than 45,000 students from colleges and universities around the world have studied with Semester at Sea, traveling to non-traditional destinations in 60 countries. The Institute for Shipboard Education administers the program, and the University of Virginia, the #2 ranked public institution in the U.S., is the academic sponsor. Students choose from more than 70 courses in a variety of disciplines. Professors on the program are internationalists who integrate course content with field practice. The program is open to anyone from any major and any accredited college or university.
Highlights:
- Global Studies
- Choose from a 108-day fall/spring voyage around the world, or 68-day summer regional program
- Study with 700 undergraduate students, representing over 250 schools
- Apx. 70 courses offered in a variety of disciplines
- Faculty with international expertise
- Itineraries focused on the non-Western and developing world
- Program is open to all students in good standing at any accredited college or university
Semester at Sea is much more than another semester at school; it is a life-altering learning adventure. Our itineraries take you to the four corners of the world, making our campus truly global in scope.
Semester at Sea's campus, the MV Explorer, is a 25,000-ton passenger liner that has been specially outfitted as a floating university. It includes classrooms, a library, a computer lab with wireless Internet, a student union, and two dining rooms. It also includes a swimming pool and fitness facilities. Cabins are available in double, triple, and quad occupancy.
Semester at Sea is often called a Voyage of Discovery. The opportunity to spend as many as three and a half months outside of your own culture - investigating new lands, new peoples, and new curricula - is a both an immeasurable educational privilege and an invitation to grow.
Participants repeatedly report that Semester at Sea changed their lives in a positive way, including:
- Improved understanding of the world
- Greater awareness of cultural difference
- Improved self-confidence and autonomy
- Improved flexibility and understanding of multiple perspectives
- Better understanding of own culture
- Greater acceptance of others and their own opinions
- Ability to live in close community
---
Courses are offered in the following disciplines:
· African Studies

· Anthropology

· Archaeology

· Art History

· Art/Fine Arts

· Asian Studies

· Biology (General)

· Business Admin. & Mngmt.

· Communications

· Comparative Literature

· Creative Writing

· Culture

· Economics

· Education

· Engineering

· English

· English Literature

· Environmental Studies

· Geography

· Geology

· History

· Humanities

· Interdisciplinary

· Journalism / Broadcasting

· Liberal Arts

· Literature

· Marine Science

· Philosophy

· Political Science/Politics

· Psychology

· Religious Studies

· Social Sciences

· Sociology

· Theater, Drama, Dance

· Women's Studies
Academic Information

Chapman University maintains a record of the courses that previous Study Abroad students have taken, and the equivalent Chapman credit that was granted for each course. To view the course equivalencies for this program, click "View Sample" under Pre-Approved Courses at the top of this brochure page. Please note that this is not a comprehensive list of all courses available at the institution. You may view the entire course catalog this program on the Semester at Sea website. Students are encouraged to propose additional or revised equivalencies during the application process, which will be evaluated by the appropriate academic units on campus.

Credit and Grading Transfer

Credits from the Semester at Sea will transfer as follows:

| | |
| --- | --- |
| Credits at Semester at Sea | Credits at Chapman University |
| 3 credits | 3 credits |

Courses are graded according to the US grading scale.

Students must enroll in the equivalent of 12-18 Chapman credits.

All courses must be graded. Classes taken as 'Pass/Fail' will not be accepted, with the exception of internships. Internships must be approved by the Center for Global Education.
---
Cost Includes:
Tuition, Room and Board, gratuities, and health insurance. Financial Aid is available. Travel to the port of embarkation, travel from the port of disembarkation, in-country travel, and discretionary spending additional.
Please note: All Chapman students will be placed in the least expensive cabins. If you would like an upgrade, you will be required to cover the difference in cost.
Scholarships are Available. - Federal grants and financial aid from your home institution may apply. SAS also distributes its own financial aid. Types of assistance offered by SAS include need-based work grants, need-based monetary grants, and monetary grants based on a combination of need and merit.
In addition to the scholarships available directly from Semester at Sea, Chapman encourages applicants to apply for the Semester at Sea Chapman Scholarship, which awards $7500 to one applicant each Fall and Spring semester.